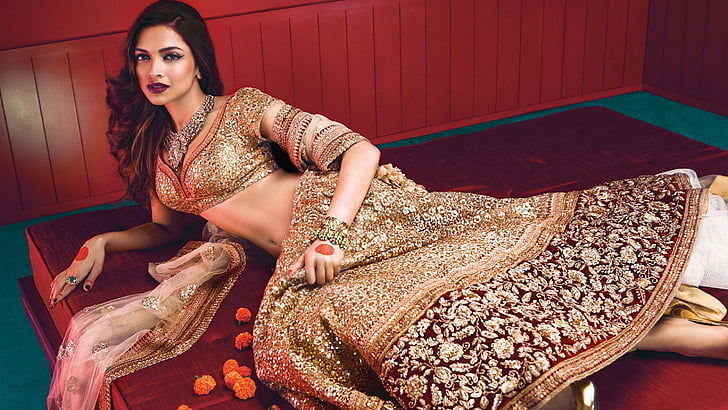 It seems that the wedding day is just around the corner, and you still have so much on your plate to cover! You have decided on the venue and your wedding menu, but what about the bridal lehenga? You are the centre of attraction on D-day, and everyone's eye will be on that gorgeous embellishment you have adorned. So, picking the one with proper colours and perfect embellishments is no joke! But, thanks to some tips and tricks, your journey to the bridal lehenga shop will turn out to be a fruitful mission!
Always recognise your body first:
Yes, there is a particular style in trend nowadays, but that may not be your perfect companion. You want a lehenga, which will compliment your looks and physical features. If you think about it, there are so many styles to choose from! So, instead of just going with the flow, why not try standing out from the crowd? Whether you have a perfect hourglass figure or fall under the skinny bride category, your choice of lehenga will surely change! So, recognise your body first before making the final investment in lehenga.
Be sure of the colours to choose:
Indian women come in all sizes, shapes and colours. Even though the traditional lehengas come in gold, red and maroon shades, you still have the liberty to pick your favourite hues for the main dress. After all, it is your wedding day, and you must fulfil your dreams of being a bride for once! So, never compromise on the colour and don't always go for the conventional shades. Try something new with modern twists. Maybe that olive green or the dark purple lehenga is screaming at you! So, think nothing else and go for that pick only!
Just give out a trial first to see if that colour matches well with your complexion or not. That's the main point to jot down because you don't want the lehenga colour to tone down your natural skin colour more.
The perfect length of the lehenga:
Whether you are too tall or just quite short, finding the right height is what most brides are struggling with. Well, you can't fix the height at the last moment when your groom is waiting outside the makeup room! So, it is always a clever move to check out the height of the lehenga first while giving it a try in the store.
Most of the lehenga stores can adjust the height if you give them some time for the arrangements. So, even if you like a piece, which is too short or long, these experts can fix the issue in no time. It is a good idea to visit the store months before the wedding day, just to have some time in hand for such last-minute adjustments.
The final say:
It is your day, and you need to look drop-dead gorgeous. Selecting the perfect lehenga will make it easier for you. So, without wasting any precious time further, focus on the tricks mentioned above and purchase your dream lehenga for the wedding.